I don't know if I've shown this curve yet, but it is too important not to talk about it.
We are in 2012, the time where additional debt doesn't grow the economy. Which means you need to print an eternal amount of money to grow GDP. This means hyperinflation.
Everything will collapse soon, so I would place my money in precious metals.
Chart 1: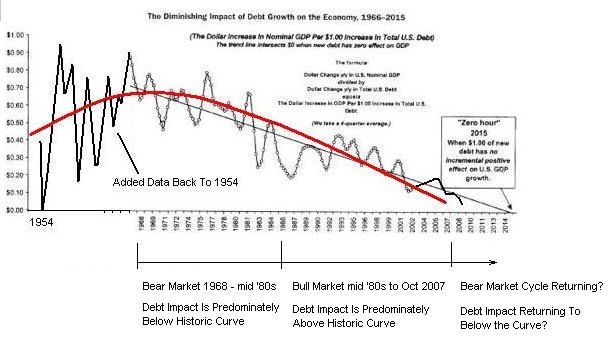 http://seekingalpha.com/article/289000-is-zero-hour-debt-saturation-upon-us
Another sign of the end nearing is the outlays (government spending (pensions, medicare, social security)) compared to foreign debt. Historically, once 40 % of outlay spending comes from foreign debt, then the country is relying too much on foreign debt for its spending needs and this results in hyperinflation (James Turk:
http://www.fgmr.com/more-deficits-more-debt.html
).
Quote (James Turk):
As further proof that the Havenstein moment is behind us, consider that 58% of the money spent by the federal government in October and November came from borrowed money ($320 billion of debt against $551 billion of expenditures). Monetary history shows that governments are on a hyperinflationary path when crossing the 40% threshold, a level long passed by the federal government.
Following chart shows the level of deficits relative to expenditures before hyperinflationary periods. As you can see, above 40% means hyperinflation:
Chart 2:
http://www.financialsense.com/contributors/john-mauldin/inflation-and-hyperinflation
Following chart says that Japan and recently USA are on the verge to go to hyperinflation:
Chart 3:
http://www.financialsense.com/contributors/john-mauldin/inflation-and-hyperinflation
For 2010:
Outlays in 2010 (see chart 6): 3,3 trillion USD
External Debt increase in 2010 (see chart 4 and 5): 1.3 trillion USD
1.3 trillion USD / 3.3 trillion USD = 39 % (almost hyperinflationary)
Chart 4:
http://gold.approximity.com/Fortune_gets_it_wrong_on_gold.htm
Chart 5:
http://www.usgovernmentspending.com/federal_deficit_chart.html
Chart 6: